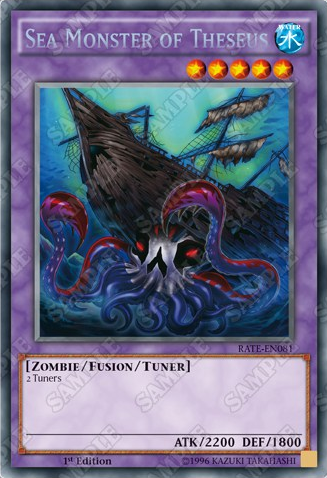 Sea Monster of Theseus the first fusion tuner monster to ever be printed. Zombie type, attribute water, level 5, and is summonable by instant fusion. It has it uses yes and could lead to interesting combos and strategies when used by an innovative duelist. Though Konami TCG hyped this card to be the strongest monster to ever be printed in the game ever before it was revealed. I'm gonna be blunt, they over hyped the card and I can name many generic cards being superior to it. As stated by the first podcast with Zane and B@tman this card is most likely being created to replace norden, because lets be honest norden is an extremely powerful card and is far more powerful than this card.
Though this is only my opinion. If you guys believe this card is actually the best and most flexible card to ever be created like Konami TCG hyped this to be then go ahead and state why. Though I only see this as a nice card intially until like I said a truly innovative duelist finds some way to make this card extremely useful.



Posts

: 301


Join date

: 2016-12-01



this has potential but this card is overrated.
i want to make a podcast on why this hype is bogus.



Posts

: 222


Join date

: 2016-11-28



People obviously don't see this is a bait and switch. Even though it could be just a joke, everyone is thinking that, "Oh, if it's garbage right now, it must be garbage forever." Maybe an archtype will be created that'll boost this card into the meta, or the new summoning mechanic will greatly benefit from this card. It's been out for a couple days. Give it a chance, as they did say "In 2017."



Posts

: 7


Join date

: 2017-01-05



If anything it can at least give pretty much all decks a generic tuner for Synchro plays. Its pretty versatile, but far from powerful at least right now of course.



Posts

: 163


Join date

: 2016-11-26



yeah but its not stupid broken.



Posts

: 222


Join date

: 2016-11-28



The card is crazy and it's only a matter of time before more crazy combos are found
With just predaplant Scorpio and any monster to resolve his eff you can hand loop up to 3 cards
Any deck running lvl5s alongside this (basically any deck running brilliant fusion) now has access to tzolkin and crystal wing etc
Emeral being able to revive this is crazy too
The card isn't over hyped it's true potential just isn't discovered and won't be for a while



Posts

: 62


Join date

: 2016-11-20



If I'm correct, KoA wasn't hyping it as the best thing ever, and were more describing it as a game changer. While it's not really a game changer on it's own, it's more like to synchros as Norden was to Xyz. The only difference is that Norden needed very little setup to work while this card needs at least another monster on the field to work. Norden also gives you quick access to the massive rank 4 toolbox, while the synchros that this card enables don't provide nearly as much situational coverage. It's still good just by virtue of being the only card in its niche (a level 5 tuner fusion that can be summoned off of Instant Fusion), but it's nothing too special on its own. Like Boo said, it gives more decks access to things like Tzolkin or level 8 synchros, which are decent things to have access to.



Posts

: 74


Join date

: 2017-01-04


Location

: Monad Depths



You wanna know this card is broken in like synchronous right. as Nordon wasn't really good enough for instant fusion in Synchron decks.

but wait you can fuse 2 of him, to make another Him.. WHAT. TOTALLY BUSTED





Posts

: 66


Join date

: 2016-12-09



---
Permissions in this forum:
You
cannot
reply to topics in this forum